Baldness Drug - A Guide to Finding the Best Hair Loss Drugs
09/13/2022
Baldness generally refers to hair loss but in excess from your entire scalp. It can either be temporary or permanent and can result from hormonal changes, heredity, medical conditions, or as a normal part of aging. Anybody can lose hair from their scalp, but it's usually more common in men, and one of the major causes is hereditary hair loss with age. Some people leave their hair loss untreated and unhidden, whereas others try to cover it up with make-up, hairstyles or cloth and try some treatments available to restore growth and prevent further hair loss. Before you buy hair loss drugs online, please talk with your doctor about the exact cause of your hair loss and its treatment options.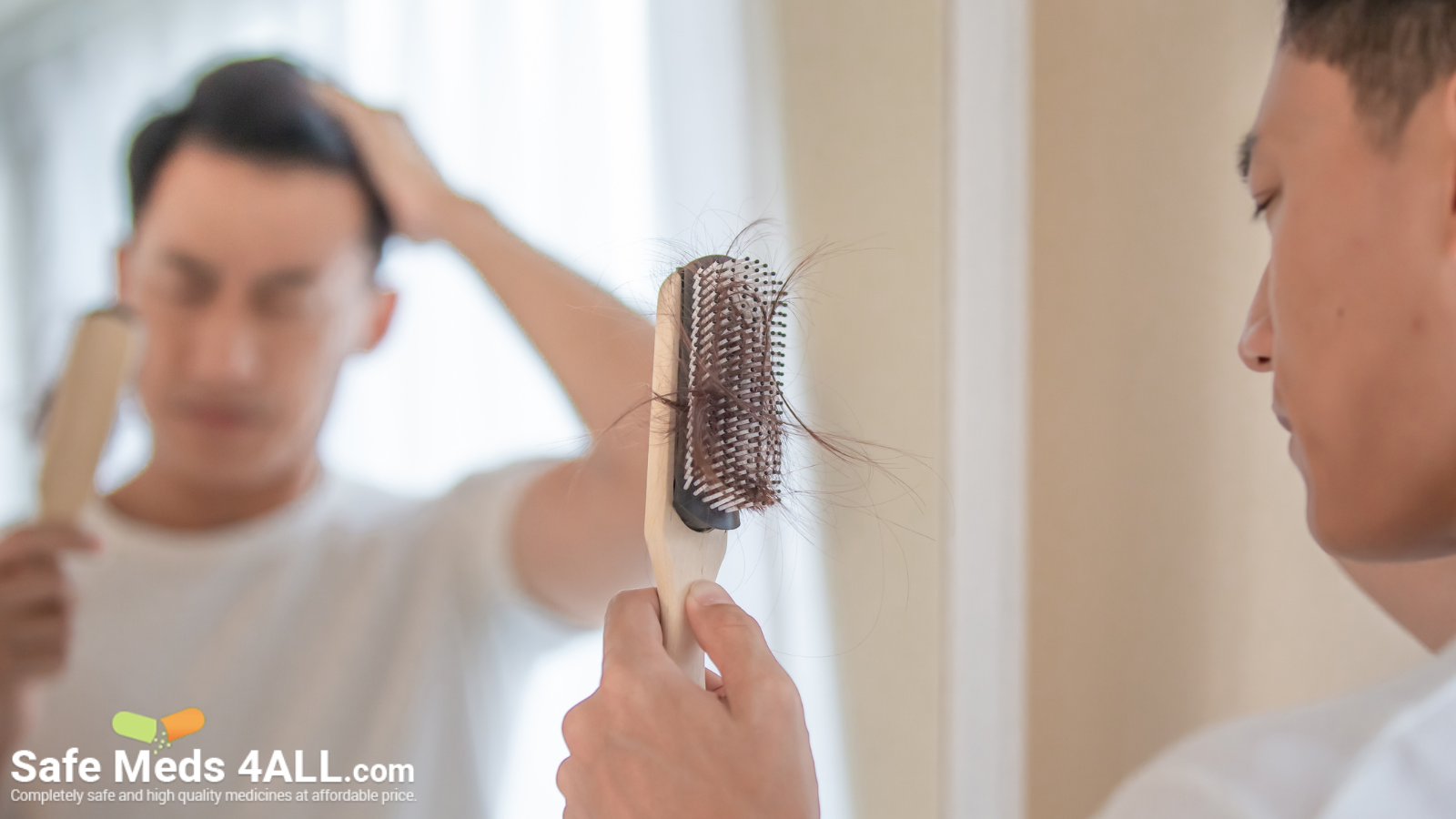 Symptoms of Hair Loss
Hair loss can appear in many ways depending on what induces it. It can show gradually or suddenly on your scalp, depending on its cause. Below given are a few signs and symptoms of hair loss : 
Gradual thinning on top of the head

Circular or patchy bald spots

Sudden loosening of hair

Full-body hair loss

Patches of scaling that spread over the scalp
Sudden Hair loss can be a sign or signal of an underlying medical condition that needs to be treated with medications or treatments. Especially hair Loss After Covid-19 has created panic all around the world. So talk to your doctor about various medicines and remedies available to avoid partial or permanent baldness.
Causes of Hair Loss
Nowadays, it's pretty standard for people to lose 50-100 hairs a day. It goes unnoticed because new hair keeps growing at the same time. The problem arises when new hair doesn't grow/replace the hair that has fallen out.
Its typically caused by one or more of the following reasons:
Family history (heredity)

Hormonal changes and medical conditions

Medications and supplements

Radiation therapy to the head

Stressful event - physical or emotional shock

Excessive hairstyles and treatments
How to get diagnosed if experiencing baldness?
If you are undergoing hair thinning or hair loss, you should consult your health care provider to know the best course of action. Your health care provider will review your family and medical history thoroughly. He will examine your scalp and recommend doing the following tests to know more and provide the best-suited medication depending upon your condition. Tests may include :
1. Pull test - 
In a pull test, your doctor will gently grasp several small sections of your hair (about 40-45 strands) from the different areas of your scalp. It will help determine the stage you are on with hair loss.
2. Blood test -
This test will help reveal the underlying medical condition causing hair loss.
3. Light microscopy - 
In this test, your doctor will use an instrument specially designed to examine trimmed hairs at their base. This process might uncover a few possible disorders of the hair shaft.
4. Scalp biopsy -
In scalp biopsy, your doctor will scrape a few samples from the skin and pluck a few hair strands from your scalp to test the hair roots under a microscope. It will help the doctor decide whether any infection is the cause of hair loss.
 
Hair Loss Medications
No matter what your gender or age is, if you are dealing with hair loss, it can be frustrating. Many products available in the market for hair loss can add to your overwhelm. Also, visiting a specialist for hair loss can be rather expensive. Fortunately, many different types of hair loss generic medications and treatments are available for men and women to stimulate hair growth or slow hair loss. Medications for hair loss consist of oral pills, solutions, sprays, and topical formulas. Make sure to consult a doctor before trying out any medications. To make it simple for everyone, let us dive into the best medications available in the market to treat hair loss.
Minoxidil
Minoxidil is the active ingredient of Rogaine. When someone thinks of a hair loss medication, this is the first medication that comes to mind. This medication has been available for hair loss for the last three decades. It treats androgenic alopecia (male pattern hair loss) and female pattern hair loss. It is used to improve hair regrowth in males suffering from androgenic alopecia. It is available in the form of solutions, sprays, and tablets. It is suggested to apply it to completely dry hair or at least towel-dried hair for best results. It can take about 4-5 months to see the results.
Finasteride
It is a medication used to treat hair loss in men. It is supposed to be taken orally. It's also available in the topical formula. It can help treat androgenic alopecia and male pattern hair loss. It's function is to slow hair loss and help grow new hair in men. Propecia is a brand of medication containing finasteride, but generic versions are also available on our online pharmacy.
Spironolactone
This medication treats high blood pressure and can be used to treat hair loss in women only after consulting the doctor. Spironolactone can be combined with minoxidil to specifically treat female pattern hair loss as it targets certain hormones, which help in hair regrowth.
Dutasteride
This medication treats high blood pressure and can be used to treat hair loss in women only after consulting the doctor. Spironolactone can be combined with minoxidil to specifically treat female pattern hair loss as it targets certain hormones, which help in hair regrowth.
 
How do hair loss medications work?
Hair loss medicine's function is to stimulate new hair growth or reduce hair loss. 
Minoxidil
It works by lessening the resting phase of a hair growth cycle and activating its growth phase.
Finasteride
It blocks the action of a specific enzyme that converts testosterone hormone to another hormone, dihydrotestosterone, which causes hair loss in men.
Spironolactone
It slows down the male hormones called androgens. It helps hair regrowth in women by slowing down hair loss caused due to androgenic alopecia.
Dutasteride
It inhibits the enzyme, which converts into dihydrotestosterone from testosterone.
 
Side effects of hair loss medication
Side effects of minoxidil can include:
Side effects of hair loss medications for men, such as finasteride and dutasteride, are as follows:
Side effects of spironolactone can include:
nausea

dizziness

lightheadedness
Takeaway
Your appearance gives you confidence, and hair is a significant part of your looks. When one notices early signs of hair loss, their confidence diminishes slowly. Many people experience this at some point in their lives, and to help with it, you can try some home remedies and make lifestyle changes. Certain vitamins and supplements have also been proven to be helpful in these cases. Nutritionists recommend a high protein diet to help with hair loss conditions.
Many treatments and medications have been proven to be effective in helping grow new hair and slow hair loss in both men and women. Before you order cheap hair loss medication online, connect with your doctor and discuss the course of treatment. You are not alone if you are also going through this hair loss phase. It can be overwhelming sometimes, but with these fantastic baldness drugs, you can regrow your hair and live a beautiful life.