How to deal with acne
07/30/2020
Acne is the eighth most prevalent condition worldwide and can be a nightmare for many. Having a flawless glowing skin is all that a girl desires and dreams of; however, acne makes these desires go in vain. As we all race towards adulthood, acne follows us, and we end up thinking that we are the only person in the world without a spotless clear skin. 
In today's world, everyone is so conscious about their looks and features that this makes it even worse for a person to stay in a society where looks matter the most, and you are judged on it entirely. This has been seen as a major cause behind lowering one's self-esteem and confidence, making a person vulnerable.
However, to save ourselves from being judged, we all make a mistake to rush into buying exorbitantly expensive skincare products blindly. We try various skincare without realizing that every skin type is different, and without addressing the underlying cause, we shouldn't splash on any product on our skin.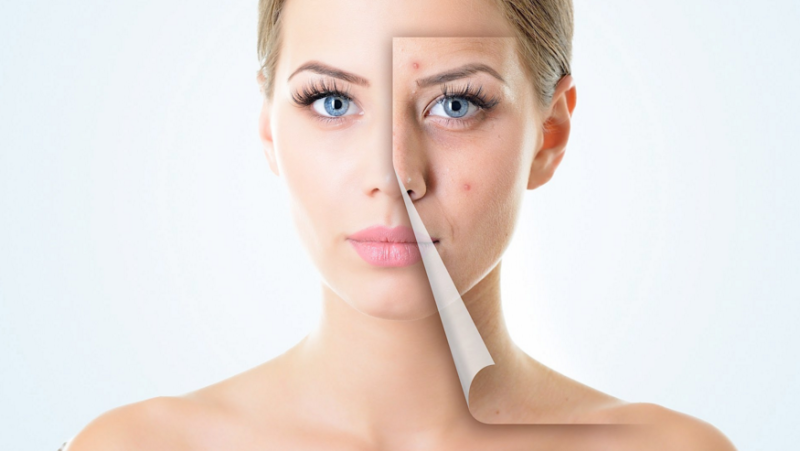 Acne can be caused due to hundreds of reasons, the most common being food intolerances, certain chemicals you use on your face, or a very poor or sluggish detox system. Rather than going after products and treating the symptoms, one must go to the root cause and treat it, instead. A 'clear skin from within' is far better than a clear skin with the help of medicines and products. A skin issue is caused only when there is something wrong or out of balance in your body. The good news is that you can treat the reasons or imbalances with a few lifestyle tweaks that won't hurt your pocket. 
Causes of acne
Talking about the actual causes, there are zillions of reasons that can cause acne or skin problems, and treating those causes the right way can help you get rid of it permanently. 
Acne occurs when the pores on your skin get clogged with oil, dead skin, or bacteria. The accumulation of too much oil produced by your follicles causes bacteria to build up in your pore, resulting in the development of a pimple or zit. 
Apart from these causes, acne can also be caused due to various other problems, such as; hormonal imbalance, stress, menstruation, makeup, wrong diet, medications, and others.
How can one prevent breakouts?
While not everything is in our hands but a few tips that can save us from making our skin condition worse and precluding breakouts or acne prevention are as follows;
- Cleanse your face with a mild cleanser or soap
- Shampoo your hair regularly and keep it out of your face
- Never pick on pimples 
- Remove your makeup before bed
- Avoid touching your face too much
- Avoid makeup that contains oil
- Shower after working out
- Reduce stress
- Avoid tight clothes
- Eat less refined sugars
- Limit dairy products
Medications
If self-care doesn't help you, there are a few over-the-counter acne medicines that can help reduce oil present on the skin or kill bacteria. 
Consult your doctor before using any medication. If you still experience such symptoms, check with your doctor. Your doctor can also suggest some procedures to treat severe acne and prevent scarring, such as; chemical peel, dermabrasion, and others. 
Home remedies
Home remedies or the use of natural substances are essential and can help you in a great way. Natural ingredients do not cause any side-effects and are very effective if used the proper way. 
- Tea tree oil
- Essential oils
- Green tea
- Aloe vera
- Apple cider vinegar
- Honey and cinnamon mask
There are many facial packs that you can make at home and apply. These masks or packs are enriched with the goodness of all the natural ingredients and can work wonders on your skin. 
Note- these home remedies might not work for some but are worth trying out. 
The bottom line
Acne or pimples are a common problem that can be very exasperating to treat. However, have patience and address the underlying cause due to which your skin is breaking out and treat them the right way. 
If you are living with severe acne, we would advise you to consult a dermatologist. 
To buy acne medications online, visit- https://www.safemeds4all.com/products/acne/54.html